Stonebreaker and Matteo Abruzzo proudly present:
AC/DC FANTOGRAPHY
From Hammersmith 2003 to Bilbao 2010
Matteo Abruzzo und Stonebreaker verbinden zwei Leidenschaften: Konzertfotografie und AC/DC!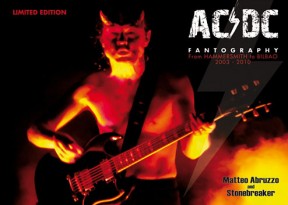 Nun haben sich die beiden Hardcore Fans zusammengetan und ihre größten Schätze aus ihren Fotoarchiven zutage gefördert. Ausgehend vom legendären AC/DC-Auftritt im Hammersmith Odeon, 2003, spannen die beiden einen Bogen bis zum bisher letzten Konzert in Bilbao, 2010. Diese Eindrücke aus vorderster Front werden in einem prächtigen Bildband auf 112 Seiten mit über 150 Fotografien präsentiert. 32 Shows aus drei Kontinenten liefern dabei das Fundament einer einmaligen Bildauswahl, welche die größten Momente der Black Ice Tour auf den Punkt bringt!
Die Facts zum Bildband:
- Verkaufspreis: 49 € + Versand
- Bestellung direkt bei info@stonebreaker.de
- Hardcovereinband, Querformat, 21 x 29,7 cm
- 112 Seiten mit mehr als 150 Bildern aus 32 Shows
- hochwertiger 4-Farbdruck auf 170g Papier, printed in Italy
- Limitierte und nummerierte Edition
Weitere Infos:
- Pressemeldung – englische Version
- Offizielle Website – www.acdcphotobook.com/abruzzostonebreaker
- Blog von Matteo – AC/DC Abruzzo