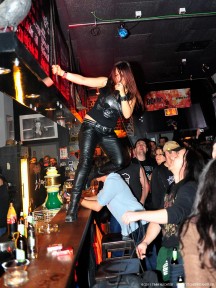 The sound of AC/DC just fits any location. Being performed at a race track to 100.000 or to a crowd of 100 in a Hard Rock club: it rocks every time.
Sven made the great choice to invite Hells Belles as a special guest for his 40th birthday party at the "Alte Hackerei" in Karlsruhe. The all girl band presented an awesome set of songs featuring "Riff Raff" and "Rock'n Roll Ain't Noise Pollution" as special highlights. To the great delight of the hardrocking crowd, lead vocalist Biggi gave a very rare rendition of "Whole Lotta Rosie" from the top of bar. Not to be forgotten: Sven's very special performance of "Bad Boy Boogie". He literally went all the way …!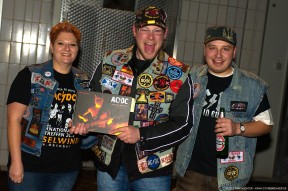 This night was also the first time that I presented my new photobook "AC/DC FANTOGRAPHY" to the public. It was great to watch those hardcore fans enjoying the book!
Concert Facts:
Band:
Hells/Belles
Tour:
Sven's 40th Birthday
Date:
November 26, 2011
Location:
Karlsruhe, Germany
Venue:
Alte Hackerei
Audience:
approx. 100
Photo location:
everywhere
Equipment:
Nikon D700 | Nikkor F2.8, 28-70mm