BAROCK present 'Bon Scott Special'
Festhalle, Karlsruhe-Durlach, March 29, 2014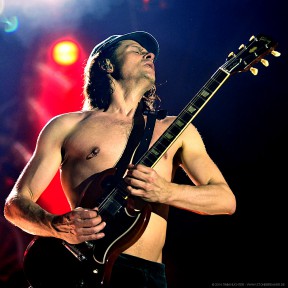 After last year's stunning performance and sold out show in Karlsruhe-Durlach, BAROCK was to play two nights in March 2014 at the historical 'Festhalle'. And this time all measures were taken to present something extraordinary to the fans: a 'Bon Scott Special'.
Sean Mulvihill, known as the ingenious lead singer of Los Angeles' AC/DC tribute band "Bonfire" took the plane from LA to Frankfurt, in order to give his 5 cents as 'Bon Scott'.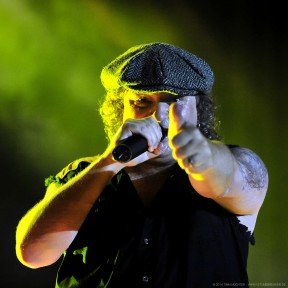 Add this by Grant Foster from London as 'Brian Johnson', Eugen Toscher on lead guitar, a strong back line and tons of equipment (bell, canons, …) and you'll get a hell of a show. This altogether combined with an enthusiastic and extremely loud crowd made up for an awesome evening: for AC/DC fans and photographers alike!
Concert Facts:
Band:
BAROCK
Date:
March 29, 2014
Location:
Karlsruhe-Durlach, Germany
Venue:
Festhalle
Audience:
approx. 1.000
Photo location:
everywhere!
Equipment:
Nikon D3s & D700 | Nikkor F2.8, 14-24mm | Nikkor F2.8, 28-70mm | Nikkor F2.8, 70-200mm
Setlist:
performed by Sean Mulvihill:
ROCK'N ROLL DAMNATION
SHOT DOWN IN FLAMES
UP TO MY NECK IN YOU
IF YOU WANT BLOOD (YOU'VE GOT IT)
HIGH VOLTAGE
TOUCH TOO MUCH
THE JACK
BAD BOY BOOGIE
performed by Grant Foster:
BACK IN BLACK
ROCK'N ROLL TRAIN
HELLS BELLS
MONEYTALKS
WHAT'S NEXT TO THE MOON
YOO SHOOK ME ALL NIGHT LONG
TNT
SHOOT TO THRILL
LET THERE BE ROCK
— encore —
WHOLE LOTTA ROSIE (Sean)
HIGHWAY TO HELL (Sean)
THUNDERSTRUCK (Grant)
FOR THOSE ABOUT TO ROCK (Grant)