Chris Slade as Surprise Guest at
AC/DC DYNAMITE Fan Club Party
Eigenart, Lüdenscheid, February 23rd, 2013
Daydream of a Rock fan: attending a tribute-band concert of one's favourite band while suddenly one of the original band members appears as special guest …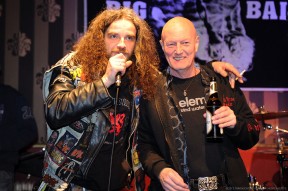 Just a "daydream"? Well, definitely NOT! This is exactly what happened at the annual party of the "AC/DC DYNAMITE Fan Club Germany" in Lüdenscheid!
Chris Slade, AC/DC's drummer of the "Razor's Edge" and "Live at Donington" era ("Thunderstruck", "Are You Ready", "Big Gun", …), happened to be around Germany. Together with his wife and his friends Alexey (founder and president of the first Russian AC/DC fan club) and Serg Smit (Drummer of the Russian AC/DC tribute Band "EASY/DIZZY") he joined the party as "Special Surprise Guest".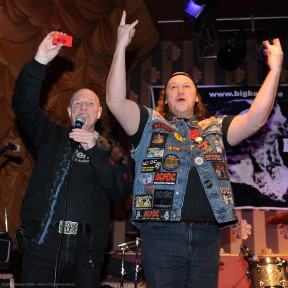 And what a surprise it was!
Just a handful of the organizers had been informed in advance about his visit. So the astonishment of AC/DC hardcore fans from Germany, Austria, Italy and England was gigantic when Frank Petersen announced the appearance of Mr. Slade! Chris held a short welcome speech and very patiently signed autographs for the next ninety minutes with lots of humor and Welsh spirit.
After every single fan had received an individual autograph the fan-club-party finally kicked off with the concert by German tribute band "Big Balls". Chris enjoyed their show for almost one and a half hours when he and his party had to leave.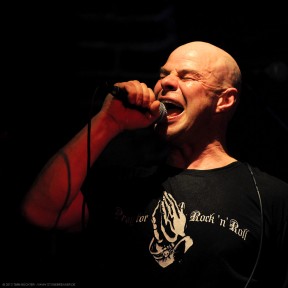 "Big Balls" rose to their best and played for an overall time of three and a half hours (33 songs) including three sets of encores! The highlights of their show: "Rocker", "Riff Raff", "If you Want Blood" and "Shot of Love".
A massive THANK YOU goes out to Petersen, Raff and Jörg for organizing this fine event, to all the fans that partied as hard as possible and to Alexey for bringing along Chris Slade, a living drummer legend!
Concert Facts:
Band:
Big Balls
Event:
DYNAMITE "old school" Fan Club Party
Date:
February 23rd, 2013
Location:
Lüdenscheid, Germany
Venue:
Eigenart
Audience:
approx. 200 AC/DC hardcore fans
Photo location:
everywhere
Equipment:
Nikon D700 | Nikkor F2.8, 14-24mm | Nikkor F2.8, 28-70mm | Nikkor F2.8, 70-200mm
Reviews:
Picture Gallery: ComeOn.de
Setlist:
THERE´S GONNA BE SOME ROCKING
IF YOU WANT BLOOD
SIN CITY
DIRTY DEEDS
TOUCH TOO MUCH
GIRLS GOT RHYTHM
THE JACK
GONE SHOOTIN´
PROBLEM CHILD
GO DOWN
UP TO MY NECK
YOU SHOOK ME ALL NIGHT LONG
HELLS BELLS
— break —
JAILBREAK
SHE`S GOT BALLS
WALK ALL OVER YOU
LET THERE BE ROCK
T.N.T.
KICKED IN THE TEETH
HIGH VOLTAGE
GET IT HOT
WAR MACHINE
SHOT OF LOVE
BIG GUN
RIFF RAFF
BACK IN BLACK
— encore 1 —
WHOLE LOTTA ROSIE
THUNDERSTRUCK
HIGHWAY TO HELL
— encore 2 —
SHOOT TO THRILL
ROCKER
— encore 3 —
LIVE WIRE
ROCK`N`ROLL DAMNATION