BAROCK and the "Flying Guitarman"
Karlsruhe-Durlach, April 13, 2013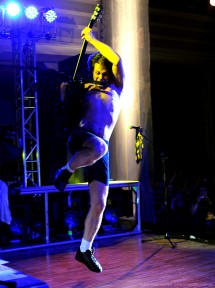 Last night I had the pleasure to photograph BAROCK at the "Festhalle" in Karlsruhe-Durlach. This historic venue was sold out and packed with approximately 1200 spectators. Everyone was on its feet when the band hit the stage and hammered out "Back in Black" … …for about 90 seconds! Then sound and light went out and everybody was more than surprised. But the technicans got all engines running in a few minutes. Thus the band had its second entry on stage and continued the show in full speed.
BAROCK is truly one of Germany's top AC/DC tribute bands! Grant Foster on vocals and Eugen "Air" Toscher on lead guitar give this line up the final kick. And you should have seen Eugen working his guitar while spending most of the time in the air, rather flying than jumping …! Sort of the dream of a photographer, especially when being equipped with two nice Nikons and an "all area" pass, not being disturbed by the security for more than two hours.
As you can tell by the pictures: I had a hell of a time. And I especially liked the version of "Two's up" from the "Blow up your Video" album. A song that I have never heard being performed live before! So if BAROCK is around your place one day, be sure to get a ticket and make it to the front row!
Concert Facts:
Band:
BAROCK
Date:
April 13, 2013
Location:
Karlsruhe-Durlach, Germany
Venue:
Festhalle
Audience:
approx. 1.200 (sold out)
Photo location:
everywhere!
Equipment:
Nikon D3s & D700 | Nikkor F2.8, 14-24mm | Nikkor F2.8, 28-70mm | Nikkor F2.8, 70-200mm
Setlist:
1.5 x BACK IN BLACK
HELL AINT A BAD PLACE TO BE
SHOOT TO THRILL
HIGH VOLTAGE
HARD AS A ROCK
IF YOU WANT BLOOD
BAD BOY BOOGIE
MONEYTALKS
STIFF UPPER LIP
HEATSEEKER
THE JACK
TWO`S UP
HELLS BELLS
T.N.T.
YOU SHOOK ME
WHOLE LOTTA ROSIE
LET THERE BE ROCK
— encore —
HIGHWAY TO HELL
ROCK`N ROLL TRAIN
FOR THOSE ABOUT TO ROCK