THE "ONE" AC/DC CAN is coming home
THE CAN's return to Karlsberg Brewery, Germany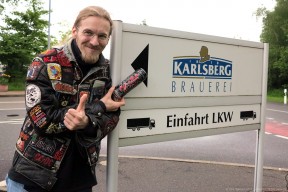 About one year ago, Christian "Spurki" Spurk started THE CAN's epic world tour in Davos, Switzerland. Since then THE CAN has traveled more than 110.000km, visited 16 countries on 4 continents, swung by Bon Scott's hometown Kirriemuir and is still on the road. Some time in April 2012 THE CAN was brewed and bottled at Karlsberg Brewery in Homburg (Saarpfalz), Germay. On Mai 17th 2013 THE CAN celebrated a glorious homecoming to its roots by revisiting it's home brewery.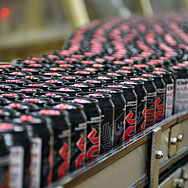 That particular Friday happened to be production day of the new EMP edition of the official AC/DC beer. Thus THE CAN had the chance to visit it's birthplace and witness the various canning steps from start to end.
THE CAN was accompanied by the official tour manager Christian "Spurki", tour photographer Timm "Stonebreaker", Karlsberg's product manager Diana Rosche and fellow AC/DC fan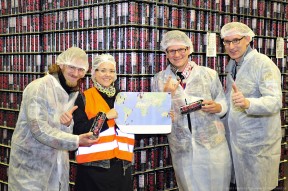 Sven Schütz. Sven happens to own a "sister" can that he has taken along his many business trips around the world (from China to the USA). Thus, both travelling cans had the chance to meet up at their origin and share some fun moments together.
Let the tour go on forever … LET THERE BE ROCK!
Check out THE CAN's tour stops around the world on Google Maps:

THE "ONE" AC/DC Beer Can on World Tour to be viewed on a large map
Join THE CAN's Facebook fan page: https://www.facebook.com/groups/acdcbeercan/