Rarität: 3x AC/DC Bier "Edition Canada"
zu gewinnen!
Verlosung zugunsten der Bon Scott Statue
(for English version scroll to the bottom of the page)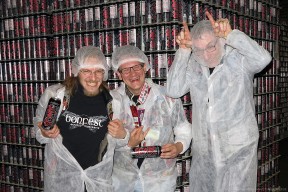 Heute war eine kleine Delegation an AC/DC Fans zu einer Werksführung samt Fotosession beim Produzenten des offiziellen AC/DC Biers, der Karlsberg Brauerei aus Homburg, Saarpfalz. Und was bekamen wir am Ende der unterhaltsamen Führung jeweils in die Hand gedrückt: eine Edition des AC/DC Biers, welches ausschließlich für den kanadischen Markt gebraut wird.
An alle Sammler: diese Dose ist eine absolute Rarität!
Die Hauptunterscheidungsmerkmale im Vergleich zur sonstigen Dosenvariante: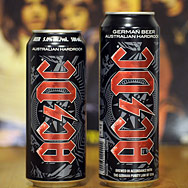 kleinere Dose
Volumen von 500 ml (anstatt 568 ml)
zweisprachiger Aufdruck auf der Vorder- und Rückseite (Französisch/Englisch))
Und jetzt das Beste: ich verlose diese spezielle Dose (gefüllt), die es auf dem europäischen Markt noch nicht gibt und dessen Markteinführung in Kanada erst bevorsteht. Alle Verlosungseinnahmen werden der Bon Scott Statue Spendenaktion zu Verfügung gestellt.
Und so kannst Du 3x Bundles gewinnen (je 1x Dose + 1x CD "Th13een" von SIN/CITY):
Jedes Los kostet 5 EURO.
Ihr könnt beliebig viele Lose bis einschließlich 4. Juni 2013 bei mir kaufen.
Bezahlung per Paypal an: nuechter@timm-nuechter.de
Für Banküberweisung: schreibt mir bitte eine Mail (nuechter@timm-nuechter.de). Ich sende die Bankdaten dann zu.
Die Verlosung findet Mitte Juni statt.
Die Dose wird in alle Welt verschickt.
Infos zur Bon Scott Statue:
Der legendäre AC/DC Sänger Bon Scott wurde in Kirriemuir, Schottland geboren. Ihm zu Ehren soll eine Statue in seiner Heimatstadt errichtet werden. Hierfür sammelt die gemeinnützige Gruppe "DD8 Music" mittels der Fundraising Website "Kickstarter.com" Geld. Falls bis zum 5. Juni die notwendigen 50.000 Pfund zusammenkommen, dann wird im Mai 2014 die Statue im Rahmen des alljährlichen Bonfests enthüllt.
Dies ist eine einmalige Gelegenheit, als AC/DC Fan ein solches Projekt unterstützen zu können! Für Detailinfos: siehe http://kck.st/10CzHfU
Hinweis: Falls bei dem Fundraising wider Erwarten nicht die notwendige Zielsumme erreicht wird, dann gehen die Einnahmen aus der Dosenverlosung zu gleichen Teilen an die Orgateams der Fantreffen in Geiselwind, Leer und Lüdenscheid.
English Version: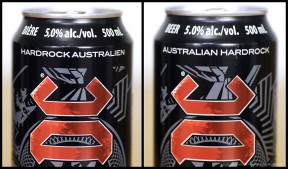 Take part in the special raffle to win an exclusive Canadian edition of the official AC/DC beer by Karlsberg Brewery, Homburg, Germany.
This is an absolute rarity for collectors since this edition will only be sold in Canada. This edition differs from the normal version by its smaller size (500ml) and the French/English imprint on the top of the can: "Hardrock Australian / Australian Hardrock".
All revenues of the raffle will go directly to the funding of the Bon Scott Statue project run by DD8 music from Bon's hometown Kirriemuir, Scotland (http://kck.st/10CzHfU).
Win one of three bundles: 1x can plus 1x CD "Th13een" by SIN/CITY
Buy your tickets at 5 EUR each until June 4th, 2013.
Payment by Paypal to: nuechter@timm-nuechter.de
(For bank details write an e-mail to nuechter@timm-nuechter.de)
Further information on the Bon Scott Statue fundraising campaign: http://kck.st/10CzHfU
In the case that the fundraising goal will not be reached all raffle money will support the German fan meetings in Geiselwind, Leer and Lüdenscheid.