AB/CD from Aschaffenburg, Germany is a true phemomenon among AC/DC tribute bands. Founded 20 years ago by guitar impresario Andy Kirchner, Roland Rubner (vocals), Bernhard Heyder (bass) Holger Diepold (guitar) and Volker Stenger (drums) it has left a decisive footprint in the local music scene. In their beginning the band exclusively dedicated itself to the era of Bon Scott. But Brian Johnson has embossed AC/DC's style since the early 80s. His voice and stage presence is an integral part of the Aussie's identity. Consequently AB/CD made their key step by combining these two musical worlds when signing Paul McGilley (England) and Massimo Leone (Italy) to their bill. Every one of them knows how to perform his distinctive role perfectly. Added by crazy guitarist Dimi "Deeds" from Greece and Warhmut Sobainsky (drums) the band really knows how to rock a crowd.
That's what they definetely did last Saturday at the Colos-Saal in Aschaffenburg. Their favourite club was chosen for a double concert in order to celebrate the bands's 20th anniversary. And what kind of birthday party this was: two sold out shows in front of a frenetic crowd! A setlist packed with 26 first class songs covering the entire stretch of AC/DC's carreer with ultra rare titles like "Love at First Feel", "What's Next to the Moon" or "Are You Ready". "High Voltage" being performed as an interplay between two vocalists and the crowd marked an emotional highlight that can hardly be topped.
Besides a fantastic concert, the show really made up for a photographer's dream presenting a band in top form accompanied by a gang of bagpipers and many guest musicians that contributed with great skill to this memorable evening.
While enjoying myself taking pictures and grooving to the music I also had the chance to introduce a promising young talent to the secrets of concert photography. Paul, who has just turned 18, accompanied me with his camera and had the chance to fill two memory cards with his own impressions of a real rock concert. At first glance it looks like he did a really good job! I will publish a link to his work as soon as his first pictures are online.
[Edit:] Here they are: pictures by Paul. They turned out really well! I especially like numbers 3, 4, 8 and 19. Go and have a look youself.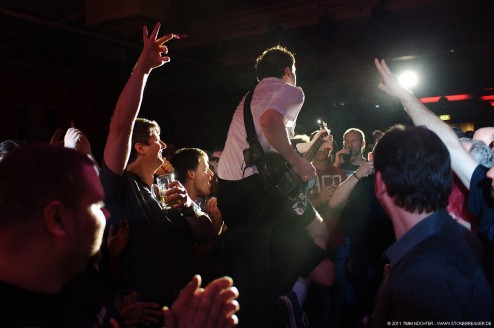 Concert Facts:
Band:
AB/CD Germany
Tour:
20th anniversary: "Rente ist scheiße, wir machen weiter"
Date:
April 2, 2011
Location:
Aschaffenburg, Germany
Venue:
Colos-Saal
Audience:
more than 600 (sold out)
Photo location:
audience, backstage
Equipment:
Nikon D700 | Nikkor F2.8, 14-24mm | Nikkor F2.8, 28-70mm
Reviews:
Photo gallery by www.rockpictures.de
Photo gallery by Paul
Setlist:
Back in Black
Who Made Who
Hells Bells
What's Next to the Moon
Dirty Deeds
Money Talks
Hard as a Rock
Thunderstruck
Whole Lotta Rosie
Sin City
Shoot to Thrill
Let there be Rock
– break –
It's a Long Way to the Top
Touch Too Much
Heatseeker
Rock'n Roll Train
Highway to Hell
The Jack
You Shook me All Night Long
Bad Boy Boogie
Are You Ready
T.N.T.
For Those About to Rock
– encore –
High Voltage
Rock'n Roll Ain't Noise Pollution
Love at First Feel