It was my first Boppin' B concert. Unfortunately I was not really prepared for their show. I did not know what was expecting me … still I captured a couple of good action scenes. The bass player was a real surprise. Haven't seen anything like this before! Show and action!!!
The festival stage was hard to work with. It was too tall to get a full body shot. The rain was a hazzle too. But still, it was lot's of fun. Since Boppin' B are the traditional finishing act of every Schloßgrabenfest in Darmstadt I am sure to see them once again.
One great thing to mention about this festival: its a 4 day festival for free! Many bands on different stages, all kinds of styles. One of the nicest festivals that we have around Frankfurt. Go check it out in 2011: Schloßgrabenfest 2011!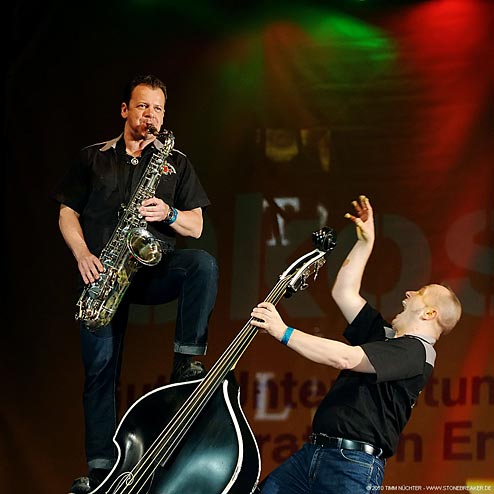 Concert Facts:
Band:
Boppin' B
Date:
May 30, 2010
Location:
Darmstadt, Germany
Venue:
Schloßgrabenfest, Main Stage
Audience:
approx. 4.000
Photo location:
photo pit, stage, backstage
Equipment:
Nikon D700 | Nikkor F2.8, 14-24mm | Nikkor F2.8, 28-70mm | Nikkor F2.8, 70-200mm
Preview:
Newspaper preview Echo live