The Hammersmith Odeon in London: what kind of a glorious location (nowadays called the Hammersmith Apollo). In the mid-70s AC/DC started their international career right there, having Bon Scott in the line up.
On October 21st, 2003, AC/DC returned to London for a once-in-a-lifetime gig: at the price of 10 BP (=18€!)  about 5.000 tickets were sold via the internet in less than 5 minutes! I was lucky enough to catch one and made my way to London for a one night stop.
This trip was to become a turning point in my photography career: it was the first time ever that I took a camera to a concert (Canon G3). This handy camera with its famous swivel monitor as well as my perfect standing point in the second row right in the center of the stage made up for a photgraphers dream. While the professional photogs had to leave the photo pit after the 3rd song, I was able to take pictures from close up during the entire show.
This intense concert experience and the results of the photo session infected me whith the concert-photography-virus. Since then I am addicted to shooting shows!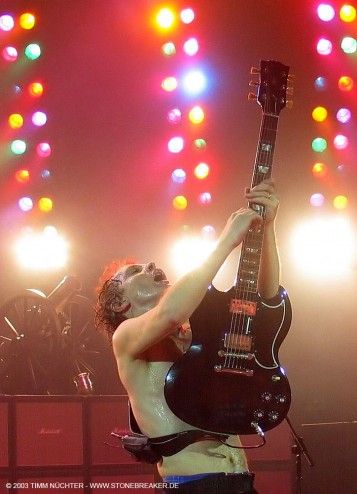 Concert Facts:
Band:
AC/DC
Tour:
Harder than a Stone
Date:
October 21, 2003
Location:
London, GB
Venue:
Hammersmith Apollo
Audience:
sold out, approx. 5.000
Equipment:
Canon G3
Reviews:
Review collection of fans and press at Crapsody in Blue
Setlist: