There is nothing like an AC/DC concert! The thrill, energy and tension that builds up between band and audience is just incomparable …
… but one thing comes pretty close to it: sitting admist an audience of 3.500 die hard AC/DC fans in the world famous Hammersmith Apollo watching the official world premiere screening of the latest concert movie "AC/DC live at River Plate"!
This is what took place on May 6th in London. I was lucky enough to get hold on to one of the few tickets (a big thanks goes out to AC/DC Abruzzo: Stefano and Matteo!).
From a photographer's point of view the trip was not that abundant. While waiting in front of the Apollo, I chose the wrong photo spot.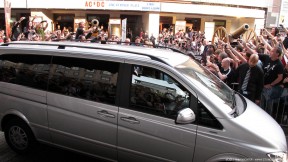 When the band arrived my view was perfectly blocked by the band's minivan. And inside the venue I was sitting all the way up on the balcony far away fromt the stage.
BUT as a fan, this trip was worth it 100%! Travelling together with Sven, meeting fans from allover the world (Canada, Norway, Sweden, Italy, Finland, Spain, Scotland, Mosambique, Ireland …) and partying at and after the show was big fun!
And the best of it all: AC/DC announced to be working on a new album and planning on having another world tour. Well, I got to start saving money again …
Some last words about the video: f…ing incredible! The best concert movie I have ever seen. It captures the essence of an AC/DC show perfectly: the music, the flow of energy, the fans. Just fabulous.
Its fun to read the customer reviews about the DVD/Blu Ray at Amazon. This says it all!